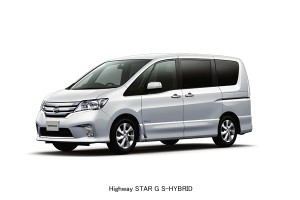 Nissan released the minivan "Serena" equipped with smart simple hybrid
Nissan Motor Co., Ltd., a smart simple hybrid (S-HYBRID)
Mounted on the "Serena" is scheduled to be released in August
(President: Nishi-ku, Yokohama City, Kanagawa Prefecture: Carlos Ghosn, head office) is 18, announced with the "Serena" the (S-HYBRID) smart simple hybrid of new development, Nissan Motor Co., Ltd. and released in August.
※ product image, see the related documents attached
Added to the engine room the sub-battery for the mosquito motor assist to increase the output and the amount of regenerative power generation energy of the ECO motor equipped with smart simple hybrid this time, newly developed, "Serena" (S-HYBRID) is to increase the storage capacity was achieved by a hybrid system in a simple and compact.
Simple smart hybrid (S-HYBRID), the seating arrangements and easy-to-use class, which is the largest indoor space features, "Serena" because it contains all the systems in the engine room is intact, class (* 1) No . Low fuel consumption of 1: provides (15.2km / L. JC08 mode fuel efficiency 2WD), the automobile acquisition tax and weight tax will be duty free (* 2).
"Serena" also will be subject to all models (* 3) eco-car subsidies.
<Smart simple hybrid to improve the fuel economy of Total Energy Management (S-HYBRID)>
• By increasing the power generation capacity of ECO motor, add a sub battery, increasing the amount of charge to the battery to increase the amount of regenerative energy during deceleration
Increase the frequency with which extended the time-stop idling by using the power storage that is more than that to stop
• During acceleration, the motor drives the ECO power surplus after idling stop, used as a driving force of auxiliary engine
Nissan, eco-car "PURE DRIVE" evolution engine type as the two pillars (* 4), we are working to reduce CO2 emissions and eco-car "zero emissions" the ultimate. Is a model of "PURE DRIVE" with a (4WD) hybrid smart simple (S-HYBRID, 2WD) idling stop system, and also "Serena".
* 8-seater minivan class of 1:2.0 L (3 car seats in a row). (Source: Nissan July 2012)
* 2: with tax cuts by "tax system promote environmentally friendly vehicles." In addition, 4WD vehicles equipped with an idling stop system, improving fuel efficiency to 13.6km / L, weight tax and automobile acquisition tax is 75% reduction.
* 3: The eco-car subsidies covered by the car (Notification), Serena subsidy of 100,000 yen registration until January 31, 2013 December 20, 2011. However, the application will be terminated as soon as the total amount exceeded the budget.
* 4: PURE DRIVE is an eco-car line-up type to provide exciting evolution of Nissan's engine was not until now.
The combination of a variety of cars and eco-technology, to ride every day of people, we will produce new experiences and surprises.
leave a response
,
trackback from your own site