Mitsubishi Fuso Truck & Bus development, the "FUEL EFFICIENT TRUCK" fuel-efficient technology for heavy trucks
Fuel-efficient technology for heavy trucks
- Check the fuel economy improvement of more than 10% in ~ "FUEL EFFICIENT TRUCK"
Mitsubishi Fuso Truck and Bus Corporation (President and CEO Albert Kirchmann,Head Office: Kawasaki City, Kanagawa Prefecture following: MFTBC), has developed technology that incorporates a low fuel consumption for heavy trucks thistime "FUEL EFFICIENT TRUCK".
"FUEL EFFICIENT TRUCK" of new development, optimization of aerodynamic drag, such as the new error Foy, the adoption of lightweight body, power management, beginning with solar cells, the overall adoption of technologies such as low rolling resistance tires, conventional I was able to type in comparison with diesel truck, get afuel economy improvement of more than about 10% (experimental value-house).
Technology adoption, will adopt some mass production car "Super Great".
MFTBC, we will continue to develop fuel-efficient technology and various hybridtrack "Super Great Eco Hybrid," a large was announced last year.
<Features of "FUEL EFFICIENT TRUCK">
● adopt a newly developed drag error Foy reduce the air resistance, and side skirts
● Adoption of the alternator power generation control technology
● solar cell power generation, such as the adoption of air conditioning when idlingstop parking
※ For details reference image, the technologies employed, see the related documents attached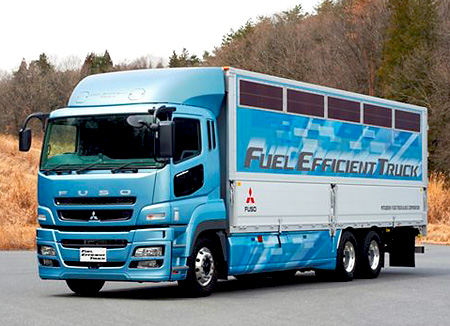 leave a response
,
trackback from your own site